Sky Trail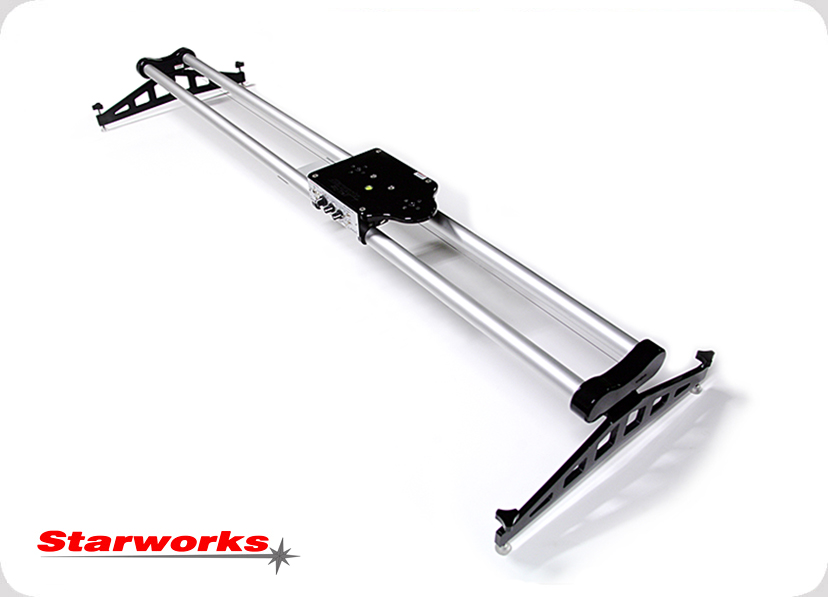 Sky Trail is a motorized rail or dolly with integrated electronics for continuous sequence linear video and time-lapse photography.  Available in 3 models (100, 150 and 200) with twin analogical timers and variable speed motor.  With Sky Trail it is possible to take exposures from a minimum time of 4.5 minutes to a maximum time of 24 hours, with a 1 minute pause between images over a usable length of 180 cm in the Model 200.  This allows the possibility of taking exposures of elements moving quickly or slowly, resulting in never seen before video sequences.  The simple and intuitive electronics allow real time adjustment during the exposures.  Power requirements are low and high power batteries are not needed, particularly in the case of the Model 100 which is extremely compact and light.  All models are equipped with limit switches which also allow the carriage to reverse direction, thus allowing continuous cycling.  Look at the HD video HERE and the normal resolution video Here.
Features:
Variable speed control from 4,5 to 750 minutes (model 200) for the entire length (see the table below)
Camera shutter control via cable (included)
Analogical intervalometer from 0,5 seconds to 56 seconds for delay between the shoots
Analogical exposures timer from 0,5 seconds to 56 seconds for automatic or bulb mode
"Shoot-move-shoot" function
Timer synchronization with the 360° Pan-Head via cable (cable not included)
Limit switches (allow continuous cycling)
Round bubble level
Maximum tilt angle 20°
CNC machined parts (alluminium-acrylic)
Dolly with wheels system for a smooth motion and 2 haeds mounting points
Camera cable suitable for Canon, Nikon etc.
Tripods locking with ¼" and 3/8" screws female (table stands not included)
Recommended ball head type Manfrotto #492 or similar (not included)
Elegant design - Made in Italy
Products included in the package:
Sky Trail
Camera shutter cable (specify the camera model when ordering)
Battery holder for type AA (8 x 1,5 volt) with power cable
3/8" screw for ball head locking on the dolly (ball head and table stands not included)
Manual
2 years warranty
Technical specifications:
Sky Trail

Type

100

150

200

Effective travel

80 cm

130 cm

180 cm

Full length at

highest speed


2 minutes

3 minutes

4,5 minutes

Full length at
lowest speed

5,7 hours

9,1  hours

12,6  hours

Exposures timer
and intervalometer

from 0,5 to 56 seconds

Payload
(horizontal)

3 kg

Maximum tilt angle

20° (with a payload of 2 kg)

Power input

DC 12 volt (2.1 x 5.5 mm plug)

Power consumption

300 mAh (0.3 A)

Weight

1,8 kg

2 kg

2,3 kg

Overall dimensions

101x18x7 cm

151x18x7 cm

201x18x7 cm

Price incl. VAT
470,00 euro
499,00 euro
514,00 euro
Delivery / Order

We ship in EU, outside UE please contact us.

To order please fill the form in the contact us page.