360° Panoramic Head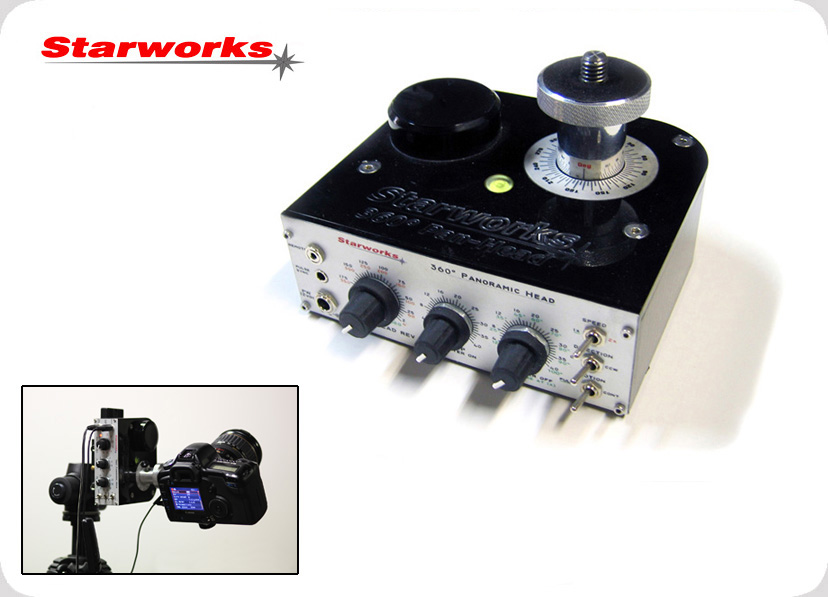 The 360° Panoramic Head is a motorized panoramic head with integrated electronics for continuous sequence time-lapse, panoramic imaging and video recording.  As a result of its twin analogical timers and variable speed motors it is possible to take exposures from a minimum full rotation time of 2 minutes to a maximum full rotation time of 12 hours, with pauses of 1 minute between exposures.  This allows the capture of panoramic elements moving both slowly and quickly resulting in time-lapse videos never seen before.  The simple and intuitive electronics allow real time adjustment during the exposures.  Power requirements are low and high power batteries are not needed.  The axis of rotation is supported by twin ball bearings and a clutch mechanism allows quick pointing of the camera.  Look at the demo video Here in HD and Here in normal resolution.
Features:
Variable speed control from 2 to 350 minutes (for one full rotation)
Camera shutter control via cable (included)
Analogical intervalometer from 0,5 seconds to 56 seconds for delay between the shoots
Analogical exposures timer from 0,5 seconds to 56 seconds for automatic or bulb mode
"Shoot-move-shoot" function
Timer synchronization with the Sky Trail via cable (cable not included)
Round bubble level, horizontal and vertical mounting (with tilt bracket, not included)
CNC machined parts (alluminium-acrylic)
Rotational axis with two ball bearings and clutch for a fast framing
Camera cable suitable for Canon, Nikon etc.
Tripods locking with 3/8" screw female
Recommended ball head type Manfrotto #492 or similar (not included)
Elegant design - Made in Italy
Products included in the package:
360° Panoramic Head
Camera shutter cable (specify the camera model when ordering)
Battery holder for type AA (8 x 1,5 volt) with power cable
Manual
2 years warranty
Technical specifications:
360° Panoramic Head

Motion

360° continuous

Full revolution
at highest speed

2 minutes

Full revolution
at lowest speed

5,8 hours

Exposures timer
and intervalometer

From 0,5 to 56 seconds

Payload


2,5 kg

Input voltage

DC 12 volt (2.1 x 5.5 mm plug)

Power consumption

230 mAh

Weight

0,7 kg

Overall dimension

13 x 13 x 9 cm

Price incl. VAT
386,00 euro
Shipping / Order

We ship in EU, outside UE please contact us.

To order please fill the form in the contact us page.